Bed and breakfast Malaga
Welcome to Casa Granadina bed and breakfast Malaga. My name is Rosie and I will be your hostess at Casa Granadina, situated in the hills and valleys close to Comares.
After twenty years in Spain I still have a passion for the way of life here; the villages, countryside, customs, food and wine. I would like to share it with you.
Bed and breakfast @ its best
I know how important it is for you to have comfortable accommodation and good food when on holiday. When you visit Casa Granadina my aim is to make it as relaxing as possible.
Holiday activities in Andalucia
If it´s action you want I can help to organize hiking packages, walking tours, mountain biking, horse riding, skiing and much more. Spanish lessons are also available.
What are you waiting for? Come and join us here in the south of Spain.

Please click on the photos to enlarge them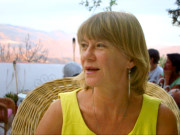 Bed & Breakfast hostess Rosie
Testimonials
Most relaxing, friendly holiday we have ever had. Thank you Rosie.>>
Richard and Vicky
read more testimonials >>
Pomegranite flowers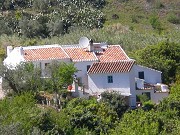 Bed & Breakfast Casa Granadina