Antequera & El Torcal
El Torcal
A magnificent limestone barrier that wind and water has carved into incredible bizarre shapes.
Using your imagination you can see castles, reptiles, animals and faces, particularly at twilight.
This is a good time to spot the Ibex that roam wild in the park and the Eagles that can be seen spiraling in the thermals above.
From the visitor area there are two well signposted walks well worth experiencing.
Antequera
An hour's drive away is the town of Antequera which has been inhabited since the Bronze Age.
The town is a delight for those who love old buildings, churches and convents.
For me the most spectacular architecture in Antequerra are the mysterious Dolmens, burial tombs dating from more than 4.000 years ago.

El Chorro
"El Chorro" is a magnificent limestone gorge.
It is an awe-inspiring and daunting gorge with a catwalk known as "El Camino del Rey" pinned to the side of the bare rock face.
"El Chorro", along with the nearby "Valle de Abdalajis" is renowned for its rock climbing and para-gliding.
Please click on the photos to enlarge them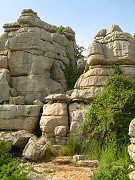 El Torcal
Testimonials
My guests from Croatia left this morning.
Here are some of their >>
Nada, Zeljko, Kristina and Arsen
read more testimonials >>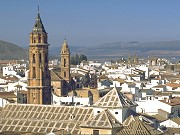 View on Antequera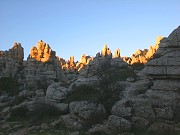 Evening at El Torcal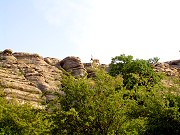 Spot the Ibex !