Guestbook
I thought you might be interested to hear what other people have to say about their stay at Casa Granadina. Below are comments from my guest book, or click here to see Trip Advisor reviews.

Jan and Maria were the latest guests to stay at Casa Granadina.
They had a lovely time walking in the local area. Here are their comments:
"Thank you so much for your hospitality in your lovely house. A very nice place to be, to walk, to visit the region and to be in the garden. Thank you."

Aline, Marc and Louis spent Christmas at Casa Granadina.
"Thank you for everything Rosie. We have had such a good time in your cottage. We really appreciated your kindness and hospitality, which made us feel welcome and like "at home" in your house!
We fell in love with the region, such majestic mountains, beaches, parks, food and people!
Already looking forward to our next visit!! Happy New Year and all the best for 2018.
P.S. Special thanks for the Christmas tree😀


Marc and Aline
For a review in this guest book of our stay in Rosie´s Casa Granadina, we do not need many words.
From the moment we arrived, till we left, and in all respects it was perfect. Rosie Thank you.


Tineke and René
Morgan and Agnes spent a few days at Casa Granadina whilst in the area for a wedding.
"Wonderful place. We had a very relaxing time. Rosie is such a cool person. Special place. The peace and crickets in the valley, sounds-------wonderful!"


Morgan and Agnes
For a review in this guest book of our stay here in Rosie´s Casa Granadina we do not need many words. From the moment we arrived, till we left, and in all respects it was perfect. Rosie thank you. 12/09/2017


Tineke and René
Had a wonderful time: relaxing peaceful surroundings, good company and a comfy bedroom.
Beautiful bit of paradise, swallows, flowers,oranges, lemons and scented air.
Rosie is an excellent host.


Carole and Penny
Dear Rosie. Thank you so much for a wonderful stay and your overwhelming hospitality.
You have been so nice and helpful that it goes beyond our expectations.
It was a pleasure to introduce you to our Buddhist Centre at Karma Guen.
We will recommend your place to all our friends. All of the best and hope to see you again.
OM MANI PADME HUM


Flemming and Jan
A highlight of our trip for sure. Would have stayed a week if I could have. Shady(the cat) was the perfect host in Rosie's absence! Steve, Stacy and Aaron


Steve, Stacy and Aaron
Lov.ely room, excellent hospitality. Thank you for a nice stay. 17/10/2017


Ann
Slept like a log. Loved the beauty and peace of this area. Thank you for your home from home. 17/10/2016


Claire
Fantastic stay. Wonderful walks in the area. Wonderful food,wonderful host. Thank you 13/10/2016


Moira, Anne and Dinah
Weekend break that was so peaceful. Quiet, nice walks. Thanks Rosie. 14/08/2016


Jill and Tim
Thanks for such a peaceful, enjoyable holiday. We really appreciated all your trip suggestions and your warmth and friendliness.12/08/2016


Aubrey, Margaret, Matthew, James and Andrew
Couldn´t have asked for more. Great company, peace and tranquility. 09/07/2016


Melanie and Kate
Super spot, super hospitality. 24/06/2016


Linda and Roel
Nice breakfast, clean rooms, lovely hostess.


Carlo
Wow breakfast. Wow place and area. Wow Rosie!


Helen
Fantastic stay.Lovely host. Very helpful re area knowledge. Big thank you. i¨ll be back. 22/01/2016


Lizzie Connell
Thanks for all. We have really enjoyed your home.Your house is lovely, and your neighbour Miguel too.
We will be back many times. Olivia, Carlos, Luka and Carlos 08/12/2015


Olivia and Carlos
Great breakfast and dinner. We had a really nice stay.


Rene and Yolanda
Very nice place and great hospitality. Tim and Nelleka 07/08/2015


Tim and Nelleka
Eric and Sandy from the United States stopped over at Casa Granadina for a couple of nights during their Andalucian Adventure.
"Thank you for your kind hospitality and patience with our directional challenges.Enjoyed visiting with you and sharing your space-neighbourhood." 09/07/2015


Eric and Sandy
Amazing experiences, beautiful surroundings and host of course. A wonderful place to be. 07/07/2015


Joshua and Chelsea
A beautiful and tranquil place with a charming host. We shall return. Robert and Carolyn.


Robert and Carolyn
Richard and Kirsty have just been for a short Easter break. This is Richards second visit and his comment for the visitor book: "Yet again lovely"


Richard and Kirsty
Just had some folks stay for a friends 60th birthday. Here are their comments from the visitor book:
"Absolutely fabulous. Rosie´s a star"
"Thanks a million. Rosie is a fantastic hostess" Adrienne B
" Its all wonderful" Shona
""Thankyou for sharing your lovely home with us" Dave
"Excellent location. Brill and cosy place. Wonderful host. Thanks Rosie" Andreas.
"Thankyou for sharing your lovely home with us" Dave.
"Thanks so much Rosie. Great staying with you" Sam
"Absolutely fantastic" Emma.

Hey guys. You are welcome back any time.


Chris G
Thank you so much for your hospitality and a neat stay. 20/09/2014


Liesbeth and Jurgen.
Thank you for being helpful, friendly and so welcoming. We really enjoyed exploring this beautiful area. 12th September 2014


Geraldine and Trevor
Great week of peace and relaxation with Rosie making us so much at home. Generosity,wealth of knowledge, suggestions of what to see,where to go,
introduction to prickly pears,. All made for an enjoyable, memorable week. 15/08/2014


Jean Judd and family
Amazing holiday. Bee eaters.Golden Oriels,lemons, oranges, figs and avocados, friendliness, hospitality, helpful,awesome,relaxing, exhilarating.


Rich and Jane
Another brilliant week at Casa Granadina.
Thanks for pointing us in the right direction for walks and where to get the best food in the region.
Fun, fun,fun. The locals help excellent too. 10/05/2014


Aba and Aycee
Ankie and Susie my latest guests from Sweden.
Ankie says:
"Lovely small B and B. Thanks for all your help when we were looking for houses. I hope to come back to you with other guests"
Susie says:
Thanks Rosie for your hospitality, its been so nice.Lots of hugs."
11/04/2'14


Ankie and Susie
Gordon, Judy and Maddie are spending a few days away from their busy UK lives and taking in the Axarquian sun.
Here are their comments from the visitors book:
Lovely stopover. Fantastic lemon cake and comfy beds. We will be back. 05/04/2014


Gordon, Judy and Maddie
Unos dias muy bonita en esta encantadora casita con la agradable Rosemary 25/03/2014


Ana Ibeas
Just what was needed after cycle accident. Lovely walks, butterflies, blue skies and great food. All presided over by the lovely Rosie. I will be back. Aycee

Simply the best. Another mega week with Rosie walking and the delights of Casa Granadina. Aba 22/10/2013


Ayacee and Aba
Rosemary is the perfect hostess, she made our stay at Casa Granadina so special. Gill and John 05/10/2013


Gill Hamblin
Dear Rosie. Thank you very much for your warmth and hospitality. It was only a short stay but we were pleasantly surprised with your nice cottage, rural village and most of all you!! Wish you all the best. 05/10/2013


Stefanie and Ted
Mandy and Rob were my latest guests at Casa Granadina. Here are their comments from the guest book:
"Rosie your home is beautiful and we loved our stay. Casa Granadina is 5 star and we would recommend it". 30th September 2013


Mandy and Rob
Cassidy and Cody stayed at Casa Granadina on the last leg of their tour around Spain. Tomorrow they head back to the USA.
Their comments from the guest book:
"Thanks for the wonderful time you allowed us to spend in this little piece of heaven. This was the best way to end our month long holiday in Spain" Cassidy

"Rosie.Thanks for making us feel at home. The food was delicious and I really enjoyed your company during our short stay. The time has passed too fast. I hope to visit Spain and Andalucia again. Thanks for everything" Cody 03/09/2013


Cassidy and Cody
Dear Rosie, thank you very much for your hospitality, warmth, smiles, delicious authentic recipes, chats and laughs we had together. Thank you for making me discover another hidden part of Andalucian life with yoga, chinese massage and tango, along with tapas and flamenco. Looking forward to seeing you in Paris. 27/08/2013


Anna
Dear Rosie, many thanks for this great time in your cosy cottage. Sad enough we have to leave.
Hope to see you and your mother again. Paul, Nailya and Finn


Paul, Nailya and Finn
Thanks for providing us with an oasis of calm at the end of a busy holiday.Great food, wonderful hospitality, and a lovely welcoming environment for our family.Leon has made some good friends and will definitely miss you. We hope to be back. Mike, Alicia and Leon.


Michael, Alicia and Leon
Thanks so much for making our holiday extra special...What a beautiful place! Your kindness and hospitality was wonderful. We will remember your home with great fondness and we will definitely return.


Jane and Martin Fane
Guests from Belgium who left this morning had this to say about Casa Granadina:
"Keep this nice holy place with your angel smile! Thank you for all, especially your hospitality" Myriam and Phillipe. 5th May 3013


Myriam and Phillipe
Paula and Frans stayed at Casa Granadina on a walking holiday:
"Dear Rosie thanks for your great hospitality, the tasteful meals. Wish we could have stayed longer". 04/05/2013


Paula and Frans
Most relaxing, friendly holiday we have ever had. Thank you Rosie. 27/03/2013


Richard and Vicky
Thanks for your hospitality and the great tapas.


Sofie and Dirk
Rosie thank you for the great time we had in your home. We really enjoyed the great breakfasts and the warmth of the fire in the evening.We also enjoyed your walking routes in this tranquilo region.


Rudolph and Geil
Thank you very much for your hospitality, great tapas, nice chats and an all round lovely time.


Paul and Nina
Thank you for your great hospitality and the fabulous meals, very much appreciated.
Weather very hot, walks good and wildlife entertaining.


Brian and Irene
You are great in little things and things that matter.
"Close to Rosie good to be. The swallows know it. Great!"


Johan and Anneke
Thank you for your great hospitality and the great walks.


Marleen and Trijntje
It was perfect!!


Helga and Manfred
Thanks alot. I will be back for sure.


Klaus
A very smiley hospitality. Thank you very much for your kindness. Maybe I will see you again with my family.


Claude and Jean
"Sweetest host I had for a long time.Thank you for your kindness, it will be part of my joyful experience of Spain" Alexis

"Thank you very much for your hospitality and for your smile in your lovely home!" Greg


Alexis and Greg
We had a very relaxing weekend. Thanks for the delicious food and hospitality.
Will definitely recommend to friends and hope to come back again.


Glenn and Sarah
We loved to stay here, you really take good care of us, and we also loved to meet your mother. You are both very friendy warm people. Thanks for all.


Dirk and Monique
We are at the end of this amazing experience having a good breakfast and the list of "thanks"is very long! We preferred to leave the city of Malaga to discover the life in the countryside and we couldn´t find anything better. Thanks alot.See you in Italy.


Giovanna and Giuseppe
Marianne and her daughter Ilsa were lovely guests, such easy company. They arrived here weary, worn, footsore tired and hungry after a long walk!
Here is what they said:
"Warm welcome the moment we met you Rosie! Lovely dinners and nice company. Lovely place to stay. Recommended."


Marianne and Ilsa
Rosie thank you for your warm welcome, the lovely walks, wonderful food and good company. You are welcome in Holland any time. Come and visit!


Renee and Alice
Jan and Elly from Holland stayed at Casa Granadina for 3 nights:

Rosie, Thank you for your great hospitality and your delicious cooking. You are a woman so pure and natural. We are not fond of large hotels, even less after this stay here!

Thanks Jan and Elly


Jan and Elly
Thank you Rosie for all. It was definitely worth the effort to travel so long to reach your wonderful Casa Granadina!. We spent a great week. Oh, and many thanks for my birthday cake.


Maria and Margarita
Wonderful place. Rosie is so caring. Will return.


Marion
A warm and wonderful time. Rosie has been a fantastic host.


Paul and Ruth
Thank you for a very hospitable overnight stay in your lovely casa.


Peter and Rurh Sowray
We got a perfect start for our Spain holiday here at Rosie´s beautiful B and B.
We loved the home feeling we got here. We can´t wait to come back.


Ella and Andreas
Rosie, your hospitallity is really "extra-terrestrial" for which many thanks.The rest was good! The quiteness of the place, and of course Miguel and his wine!! Many, many thanks.


Jan and Sabine
Rosie we would like to thank you for your hospitality. We now know more about Spain and its little villages. We will definitely come back one day and hope to see you in your nice house in this beautiful quiet area.Greetings from Holland.


Mieke and Jorrit
Thanks for a very plesant stay and the great help concerning the area.See you another time.


Isabella and Josephine
"Many thanks for everything and see you again" Grazyna and family.


Grazyna and family
Muchas gracias para todo.Lugar maravilloso y hospitalidad perfecta!


David y Camille
Viviana and Marco from Milan, Italy have been her for a couple of nights. They enjoyed the sites of Malaga and have gone off to Granada today.
Here is what they said about Casa Granadina:
"So lovely staying here. A very nice home and we enjoyed Rosie´s hospitallity. Wonderful breakfast!!"


Viviana and Marco
We had such a marvellous stay at Casa Granadina. It truly was a home away from home.
We enjoyed the excellent food and Rosie´s incredible hospitality.
We were very close to many wonderful locations and enjoyed easy day trips to Malaga, Sevilla, Velez, Cordoba, and Torre del Mar.
We celebrated a birthday and a 10 year anniversary. Thanks for the lemon cakes and Antonias rosquillos.


Aaron and Nitza
Spent the best time at Casa Granadina with my best sister and the best hostess ever. Rosie surpassed all my expectations.

Will miss the soothing sounds of the river, frogs and crickets at night. Elvia

Five days are not long enough to soak in the tranquillity of Rosie´s haven. Will miss the serene nightsand all its sounds, the delicious meals and Rosie´s laugh. Will be back sometime soon I hope. Alma


Elvia and Alma
Enjoying a spontaneous weekend in Spain, choosing the cosiest places there is. A lovely stay at Rosie´s cottage. She is so nice, totally natural. Brilliant food, lovely environment. Amazing beaches, we´ll be back. Many many thanks.


Javi and Daniella
Spent our last two days of a fantastic week relaxing in beautiful surroundings, looked after by a great host before we reluctantly had to leave. We very much enjoyed our stay and will hopefully return.


Colin and Louise
We spent 3 lovely days in Rosie´s care. Enjoyed nourishing breakfasts to start each one.
Thank you for your kindness and travel help.


Louanne and Mike Jones
Very relaxing start to my yoga retreat in Periana.Wonderful food, especially the lemon cake. Thanks.


Janice Bunn
Spent two relaxing nights at Casa Granadina after hectic days in Madrid and Barcelona. It was exactly what we needed! Beautiful views everywhere and a type of quietness that we never get in the city, birds chirping, frogs croaking. Thanks for everything Rosie.


Matias and Elizabeth
Great place, great food, great hospitality, great surroundings.


Henk
Brilliant place, brilliant hospitality, we´re reluctant to leave! Rosie you´re a great hostess. Thanks so much for all the amazing food and your kindness. I hope we can come back.


Teresa Jackson
Had an amazingly relaxing time. Loved the walk to Comares from here. Food was amazing and I slept the best ever. I would definitely come back.


William Hughes
Great food and hospitality. If we could we would give you a Michelin Star.


The girls from Belgium
Thanks for your hospitality and some needed relaxing days. Lovely place and area.


Brian and Mags
A nice place to stay and relax.Warm host I will miss and come back.


Kevin
Rosie, thanks for the hospitality. It has been like HOME without the dialy chores. Wish we could have stayed longer.


Stefani
The moment we arrived we felt at home but we didn´t have to do anything but enjoy...


Karen, Joanne and Anna
Thanks for lovely relaxing break and for looking after us. Best lemon cake ever!


Barbara and Mac
We felt very much at home. Thank you for your kindness and hospitality. We definitley intend to come back.


Jan and Corine
I can´t imagine a more peaceful place to spend my vacation. Thank you.


Michael and Elizabeth
Superb stay, hospitality, food and walking in surroundings. Thanks alot.


Peter
A little sad to leave your homestay. Rather call it that because this place really felt like home. We will recommend it to everyone we know who wants to visit Spain.
Loved the house, the food, the fire in the lounge, our room, the great patio. Thanks for a lovely stay.


Mattias and Esther
Finding your lovely place and receiving such a warm and friendly welcome has been a joyful experience.


Sarah and Ian
Thank you for some relaxing days and real helpful support.


Ursula and Rico
Hola Rosie! Thanks for this lovely experience, I´ve really enjoyed it.


Stefani
What a fantastic day......we don´t want to leave. We are very grateful for your stupendous hospitality.


Gabriella and Kendrah
Casa Granadina, eclpise of beauty and serenity. Thanks Rosie, for your warm welcome, your nice food. Thanks to the neighbours for the swimming pool. Last but not least, a thousand thanks to Mother Nature for her generosity without which such a place could not exist.


Scherah
Rooms: so good...
Food soooooooo good!!!.....and Rosie......simply wonderful.
Thank you for everything!We will hold you in our heart forever.


Sara, Fabia, Anna, Anna
It has been so wonderful to stay in such a peaceful place. Thank you Rosie for welcoming us, it has been like home. I love your lemon cake.


Rash and Mani
Es ist sehr schön bei dir Rosie: Vielen Dank für das wunderbare Essen und die Gastfreundschaft.
(It is very nice with you Rosie: thank you very much for the wonderful food and your hospitality.)


Christine Demmer
What a treat to spend a day in your delightful cottage. Great food and lovely company. Thanks.


Euan Jones
Dear Rosie, Many thanks for the beautiful last days of our trip - it has made it complete.
Wonderful company, delicious food. Hope to come again sometime.


Christine and Nilvio
Not enough space to express my love and gratitude for this experience. A week in this quaint paradise was not nearly enough.
Thank you Rosie for your incredibly warm and generous hospitality, your delicious meals, the unforgettable sights and for making me feel so welcome in your home.


Sabrina
A fabulous couple of days. Great ambience, wonderful food, fantastic walks. WE WILL BE BACK.


Mary and Sandra
Only for one night, a hearty welcome, a terrific dinner and beautiful room. Thanks, we will recommend you Rosie.


Michael and Ellie
Another fantastic week. Great hospitality, walking and food. Thanks.


Aba
Another lovely holiday. Great walks, food and company. Thank you.


Kate
Six weeks is not enough! The food, the company, the gracious hospitality...
I felt at home the minute I arrived - and ever since. My heart aches to leave - and soars with the hope of returning.
Rosie and Casa Granadina actually make this amazing Andalucia more amazing!


Jim Chester
A hidden gem tucked away from large impersonal hotels - perfect.
Amazing food, comfortable accommodation and Rosie is just a hostess from heaven, nothing was too much trouble. Thanks for everything.


Stella Hodgson
Rosie is a star: If Oscars were awarded for food and accommodation she would win a clutchful.


Alistair Gunn
Wonderful to revisit Casa Granadina. Rosie you are the perfect hostess.


Gordon Gunn
Good food, no great food, great walking, good living. Rosie rocks.


Aba
Thanks for a wonderful time. Splendida Rosita y la casa bonita.


Sheniel
Thank you so much for a wondeful week. Hasta luego.


Helen
After three months of travelling, this area, house and hostess top everything I´ve seen and done.


Janis
A well needed rest on my way south. Look forward to stopping off on my way back. Great hospitality.


Andy Wing
Oasis at the begining of a long travel. Good food. Good company.


Ian Cassidy
Your meals are very sweet and an amazing lemon ice pie. Thank you for your hospitality.


Bryan
You have a great place to be, with a stunning garden. The food was great.
I have had two special days. THANKS.


Jolanda
Your hospitality is so great its a pity that we can´t stay any longer than two nights.
Your back yard is really great, and if you bring out a recipe book I sure want to have it. Thank you very much!!!


Jeffrey
Fabulous! Don´t have words enough to describe the hospitality of a lovely lady in a Garden of Eden. Paradise.


Rene
Great welcome, food and hospitality. Thanks for two good and relaxing days.


Gerard and Loes
Fantastic food, beautiful walks, great hospitality we will never forget. Hope to return soon.
We felt very comfortble in your warmth, not as guests but like friends. Thanks for that.


Ella and Berber
It is the first time we have made a walking trip like this.It is wonderful, and so are you Rosie!
You are "real" which we appreciate very much.We like your style of recieving guests. Cooking for us alone, we have never had it so good!
We will tell all our friends in Belgium.


Frank and Gerda
We never had so many nice lemon things in our lives! Thank you.The frog noises are in the top 5 of quiet noises of the night!
If this is the last day of my life I´ll have no regrets.


Miriam and Bob
A tropical garden. We enjoyed the experience! Thank you so much for you hospitality.


Anlee and Niels
Thank you for all the delicious meals, your sense of humour, your warmth and kindness.


Gertie
Pity we had to leave. Your place was so nice (colours, rooms, etc.) and your services excellent! Thank you.


Gerda and Chris
We felt very at home in your quiet, nice house and garden. We loved the delicious food, your home made salad with products from your own garden.


Thea and Tonny
A peaceful place with a lovely lady (Rosie) looking after our every need.


Gordon and Gertie
A cosy and tranquil retreat with a great hostess.


Geoff and Lin
Friendly neighbours. A house of surprises, a patio for great evenings and a base for travels in the beautiful Axarquia.


Ane, Tore and Vidar
A tranquil and cool oasis. THE perfect holiday,


Sue and Louis
Fantastic setting, great neighbours. Very well equipped cottage. River, orange groves, mountains. Great for kids.


Bob Burger
What a magic little house - we will return!


Viv and David Butler
A much needed relaxing break away from it all. Thanks for all mod cons and well equipped cottage.


Sue and Mike
back to top
Please click on the photos to enlarge them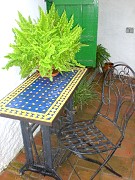 Charming detail on the terrace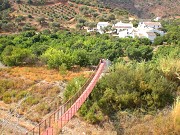 ...for when the river is flooded...