Rural Accommodation with b&b:
The Rooms
Bedrooms of the rural accommodation
The Rural Accommodation Casa Granadina near Comares has four letting bedrooms.
One en-suite double, situated upstairs and reached by its own private staircase.
There is a further double room and two twin bedded rooms, one located downstairs.
The second bathroom is also located downstairs.

Living Rooms at the rural accommodation
There are two living rooms downstairs adjoining one another. These can be used as one large room giving a cool and airy feel in the summer, or separated by double doors giving a cosier atmosphere in the winter months.
Both rooms have wood burning stoves and comfy sofas to lounge on.
To help you relax there are games available for your use, a music centre with CDs and a large selection of books.

Rural accommodation Dining Room
You can eat on the terrace for most of the year, especially for breakfast when you can enjoy freshly squeezed juice from the orange trees in the garden.
There is a comfortable dining room off the kitchen when it is needed.
Laundry Facilities
The rural accommodation has a laundry room available for you with washing machine and ironing facilities.
Please click on the photos to enlarge them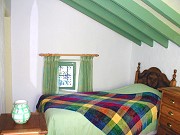 Rural accommodation: Green bedroom
Testimonials
We had an amazing time in your lovely cosy house Rosie and you are a >>
Simone, John, Styn and Moaike.
read more testimonials >>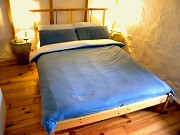 En-suite room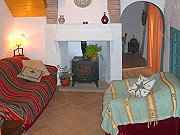 Living room with wood burning stove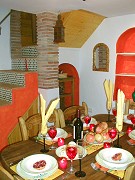 Rural accommodation: Dining room