Córdoba
The Cathedral of Córdoba is one of the most bizarre religious buildings you will ever encounter.
Mezquita-Cathedral
The original Mosque was built in 785 and the Cathedral was literally built in the middle of it in the 16th century. It has to be seen to be believed.

Patio Festival
Córdoba is famous for its flower filled-patios that are opened to the public for the Patio Festival in May.
This is a great time to visit the city and don't forget to stop off and enjoy a fino sherry in one of the local bodegas as you walk around the city.
Outside of the city you can find the ancient remains of Medina Azahara.10th century palace buildings surrounded in myth and legends. Well worth a visit.
Please click on the photos to enlarge them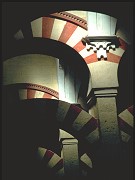 Córdoba, Mezquita arches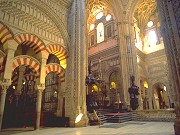 Mezquita and included cathedral