Booking Information
To make a provisional booking first check the availability calendar for the room that you require.
Then please contact me either by phone or e-mail or by using the booking form. I will be in touch soon afterwards to confirm your details and arrange payment.

Booking Your Holiday
To confirm the booking I ask you to pay a 25% non-returnable deposit. This can be done by sterling or euro cheque, bank transfer or Pay-Pal for which I charge an additional 2%.
The balance is due six weeks before the start of your holiday unless you book your holiday less than 8 weeks before it is due to start. In this situation the total is payable at the time of booking.
Terms and Conditions
Please read the terms and conditions thoroughly before booking.
Please click on the photos to enlarge them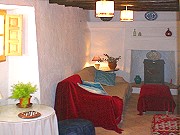 Andalucian style living room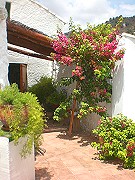 Green and fresh terrace