Sevilla
Sevilla is the biggest city in Andalucia and boasts one of the largest Cathedrals in Christendom.
Alcazar, Giralda and other Attractions
The "Alcazar" has magnificent gardens that are a tranquil oasis in the middle of the hub-bub of city life.
Other attractions are the "Giralda" Tower, the narrow streets of the "Barrio de Santa Cruz" and the "Torre de Oro".
You can take a tour in a horse-drawn carriage or a trip on the River "Guadalquivir", great with helping you to orientate yourself within a strange city.


Please click on the photos to enlarge them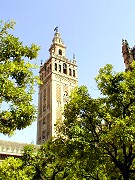 La Giralda, Sevilla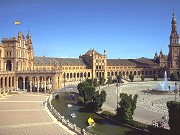 Sevilla, Plaza de España